.
.

.
Organic B-COMPLEX Vitamins
PANMOL® B-COMPLEX vitamins are a complete vitamin B-complex obtained from quinoa sprouts.  The quinoa used for producing
Organic PANMOL® B-COMPLEX vitamins are organically cultivated and monitored.
Unlike synthetic vitamins, Organic PANMOL® B-COMPLEX vitamins contain not only the 8 familiar B-group vitamins but also
a multitude of organically bound and biologically active B-vitamins.
POSSIBILITIES FOR YOUR INNOVATIVE PRODUCT:
INDICATIONS:
Memory and concentration disorders

Chronic stress

Depressive moods

Sleep disorders

Tiredness and fatigue

Circulation problems

Unbalanced diet
FOOD GROUPS:
Nutrient preparations

Bread and baked goods

Snacks and munchies

Soups and sauces

Confectionery of all kinds

Dairy products

Fruit products and many more
Stauber is a business-to-business supplier, blender, and distributor of ingredients.  We only sell to companies and not to individuals.
Stauber is a key wholesale distributor who provides the finest Organic B-Complex Vitamins.  Contact us today!
.
.

The PANMOL® B-COMPLEX Difference:
1 g offers 150 % RDI* of all B vitamins in biologically active forms

Certified Organic by QAI (Quality Assurance International)

Non-GMO

Vegan

Lactose free

Gluten free

Kosher

Halal

Organic and botanical B vitamins from quinoa sprouts

Clinically tested to support regenerative processes

Unique, high, standardized vitamin concentration (150 x higher than in whole grain)
.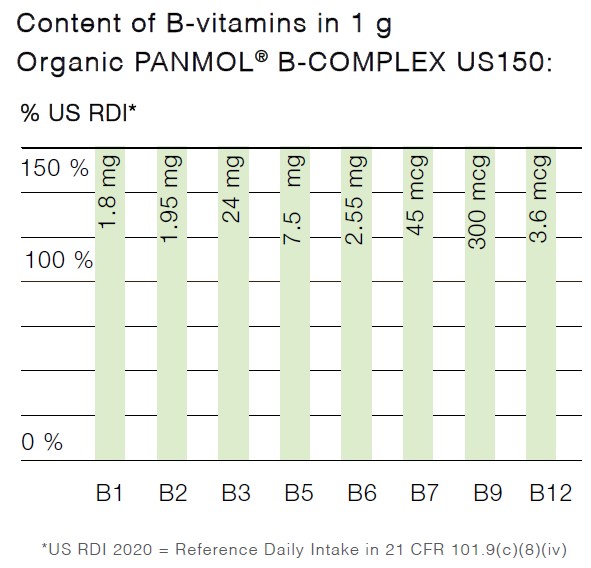 .