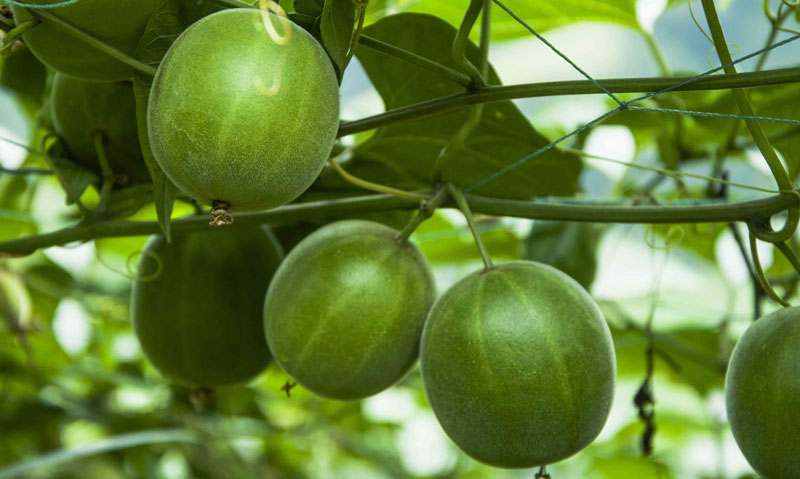 .
Organic Monk Fruit Sweetener
Monk Fruit is Sweeter Than Sugar, Zero Calories and Zero Aftertaste !
Monk Fruit, also known as Luo Han Guo, is our newest zero-calorie sweetener. The small, round, and green fruit has edible pulp inside and grows on vines native to China & Thailand.
Monk Fruit PureV50™ is amazing, it's up to 200 times as sweet as sugar, and is a great alternative to sugar!
The pure Organic Monk Fruit PureV50™ is prepared by a simple water extraction process. Using the whole flesh of the fruit including the nectar, the components are separated to get dehydrated juice that contains the sweetness from the fruit, also called mogrosides.
Mogrosides are a derivative found in several types of plants. This process allows the simple sugars to become a byproduct during the extraction and drying process, leaving a super sweet, zero-calorie, and pure powder. It's really a simple, clean process that creates a sweet alternative to sugar without all the calories.
Organic Monk Fruit PureV50™ Key Benefits:
High Versatility
Easy Blending
Low Use/High Yield
Clean Label
Keto-Friendly
Diabetic-Friendly
GRAS
Clean Taste
Zero Calories
Stauber is a business-to-business supplier, blender, and distributor of ingredients.  We only sell to companies and not to individuals.
For the finest Monk Fruit Sweetener contact us today!
.