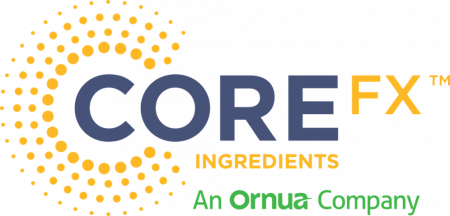 Who are we?
CoreFX Ingredients is the market leader in the creation of spray-dried holistic ingredient solutions that deliver the perfect balance of taste and nutrition. With a passion for disruptive innovation, our uniquely spray dried functional high-value fats and oils help manufacturers bring new, innovative products to market quickly to meet the growing demand from health-conscious consumers, seeking products that support immune health, cognitive function, and promote health and wellbeing.

Industry Leader
We are known as the industry-leading entrepreneurs, adding value, and creating disruptive fat-based ingredient solutions safely and efficiently.

Customized Solutions
We possess the ability to design custom ingredients across a range of properties, without compromising on flavor or functionality.

Innovation
Our method of spray drying stable fat and oil emulsions is a rapid, continuous, cost-effective, reproducible and scalable process.

Customer Service
Ask anyone who's worked with us and they'll tell you: we never fail to deliver on our promise of speed, agility, and day-to-day responsiveness.

Global Sourcing Capabilities
We possess the ability to source both locally and globally to benefit your business' needs, costs, and production capacity.
Markets We Serve
Whether you're creating a new product, matching a national brand or looking for a custom flavor or color solution, we can help. We offer a full array of non-GMO, Kosher, organic, Keto and paleo friendly solutions.

Functional lipid combinations utilizing micro-encapsulated and liposomal emulsion technologies.
Discover some of our products…
• MCT Oil Powder
• CLA
• White Rice Powder

High-value nutritional powders rich in natural energy-boosting fatty acids, antioxidants and omega's.
Discover some of our products…
• Liposomal Vitamin C
• Algae Oil Powder
• CBD
• EPO
• Borage Oil Powder

Nutritional, dairy and cheese powder ingredient solutions delivering imparting functional benefits and taste.
Discover some of our products…
• Antioxidant Powder
• High Caprylic MCT Oil Powder
• Range of Cheese Powders

Spray-dried healthy fats for nutritional, functional and supplement applications.
Discover some of our products…
• MCT Oil Powder
• Avocado Oil Powder
• Olive Oil Powder

Spray dried grass-fed butter ingredients satisfy the demand for origin and taste while remaining true to dairy.
Discover some of our products…
• Grass-fed Butter Powder
Our Innovative Technology of Spray Drying
At CoreFX, we continuously design and create disruptive nutrition and wellness solutions safely, efficiently and sustainably. We do this using our customized technology of spray drying which converts liquid oil/water emulsions into free-flowing powders with optimized particle size, density and flow to extend shelf life while easily scaling and incorporating into foods and beverages. To learn more about this process, check out our 3D animation video! And remember, all our ingredients are made in the USA.


High Functionality
Our method of spray drying stable fat and oil emulsions creates functional convenient powders with high fat/oil loads which can be readily used in mainstream food and beverage as well as nutritional, supplement/nutraceutical/pharmaceutical applications.

High Quality Powdered Ingredients
Compared to other conventional microencapsulation techniques, spray drying offers the attractive advantage of producing microcapsules in a relatively simple continuous processing operation ensuring powder quality remains consistent.

Protection of fats/oils and flavor
The stable emulsion process ensures that fats and oils are protected from air and light thereby extending shelf life considerably. The encapsulation process ensures flavor is protected but also allows for enjoyment of pleasant flavor profiles appealing to food and beverage applications.

Cost Effective
Spray drying is a rapid, continuous, cost-effective, reproducible, and scalable process for the production of dry fat/oil powders. Microencapsulation via spray drying is also associated with decreased costs of production versus other methods, increasing the economic viability of the method.

Storage and Convenience
The microencapsulation process via spray drying allows for long term storage of otherwise sensitive fats and oils at ambient temperatures without the need for refrigeration. Incorporation of dry stable powders into food and beverage recipes is far more convenient than incorporation of fats an oils in their native state.