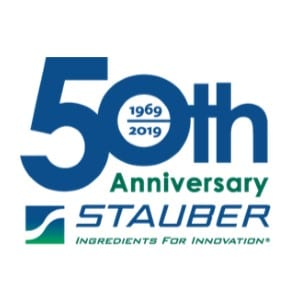 STAUBER CELEBRATES 50 YEARS OF QUALITY AND INNOVATION
FULLERTON, CALIFORNIA, February 2019 – STAUBER, the leading supplier of high quality, innovative ingredient solutions for the nutritional, food, pharmaceutical, cosmetic and pet care industries, is celebrating 50 years in business (1969-2019). STAUBER prides itself on seeking out quality ingredients that offer superior fortification and functionality for a broad spectrum of products. Over the last 50 years, their portfolio has grown to include unique and innovative ingredients for distinctive custom formulas and finished products supported by clinical research.
The company was founded on the principle of partnering with manufacturers that provide the highest level of product and service. According to Dan Stauber, Vice President, Health & Nutrition, "My father Jerry established the company 50 years ago based on a principle of coming through for people. That was the original, 'Stauber Chemicals, Inc.'"
STAUBER took that same, simple concept to heart as the name and goals of the company changed and transitioned into STAUBER Performance Ingredients. For the last five decades, the cornerstone of STAUBER's business has been about strategic partnerships with vendors and customers. "When all parties are better off after doing business together, you create "win-win" scenarios for everyone." Says Dan Stauber. "Over the years, our greatest achievement has been in building a multitude of successful and enduring relationships, creating jobs, supporting livelihoods, helping numerous causes/charities in need, and hopefully in the end, leaving the world a better place."
In 2015, STAUBER was acquired by Minnesota based Hawkins, Inc. – a company whose values, culture and customer focused mindset are identical to that of STAUBER. Hawkins, Inc. is a publicly traded company based out of Roseville, MN distributing a wide variety of bulk and specialty chemicals. According to Dan Stauber, "The team at STAUBER is made up of incredible individuals, and it is an absolute honor to be associated with such a dedicated group. Now, as part of the HAWKINS family of companies, we look forward to continuing this legacy into the next fifty years and beyond."
STAUBER's 50th Anniversary Celebration will focus on thanking their business partners and employees for helping shape the company into the business it is today and will culminate in a celebration at SupplySide West in October.
For additional information, please contact us.