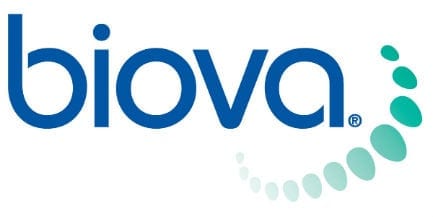 FOR IMMEDIATE RELEASE         
January 2018 
Biova, LLC and Stauber Performance Ingredients Announce Exclusive USA Distribution Arrangement
Stauber has been appointed the exclusive US distributor for Biova's innovative water-soluble eggshell membrane ingredients in the Nutraceutical, Functional Foods & Beverages and Pet industries. 
Johnston, Iowa & Fullerton, CA, USA. Supplement brand owners and formulators who are looking for expanded delivery options for their joint health and beauty from within products can now ask their Stauber Sales Contact about Biova's water-soluble eggshell membrane ingredients. Biova's ingredients are for joint health in humans (BiovaFlex®) & pets (BiovaPlex®), as well as for beauty-inside-out (BiovaBIO™).
Biova's CEO, Pat Schneider said, "Stauber's mission to supply high-quality ingredients and innovative solutions with an exceptional level of customer service was a driving factor in choosing them as our partner. We have been very impressed by the Stauber team and are excited about the exposure and awareness that Stauber can bring to our ingredients."
Stauber is a leading ingredient distributor, offering their clients the most innovative and high-quality ingredients available. Stauber's Senior Vice-President, Shirley Rozeboom said, "Biova's ingredients are a great fit with our existing portfolio. The Biova ingredients align alongside our key Stauber products with transparency and vertical integration of sourcing and manufacturing. Customers searching for scientifically backed ingredients for joint health, beauty, paleo and ketogenic formulations will benefit from incorporating Biova's ingredients into their product lines."
The partnership will provide finished goods manufacturers and brand owners greater access to Biova's ingredients. The details of the partnership were not publically disclosed. Formulators who wish to learn more about what these ingredients can do for their product offerings, should contact Stauber's customer service: customerservice@stauberusa.com
*****
About Biova, LLC.
Privately held and globally distributed, Biova is the market leader for water-soluble egg membrane ingredients offering proven health benefits: BiovaFlex for joint health; BiovaBio for beauty from within, BiovaDerm for topical skin care; and BiovaPlex for animal health. Biova's patented water-soluble process creates expanded delivery options for consumer products, including functional foods, beverages, lotions and more. Years of dedicated investment, ongoing scientific research and leading-edge technology are at the core of these all-natural, ultra-pure, nutrient-rich ingredients. A focus on sustainable production, anchored by vertical integration with the largest egg producing and processing partners, assures Biova's unmatched raw material supply—the right combination of access and capability to drive opportunity and growth.
About Stauber Performance Ingredients USA
Since 1969 STAUBER has consistently offered the finest quality ingredients to the nutritional, food, beverage pharmaceutical, cosmetic and pet care industries. The company was founded on the principle of partnering with manufacturers that provide the highest level of products and services. Our branded innovations from worldwide partners include scientifically backed ingredients with regulatory compliance. With our corporate office in Fullerton, California, manufacturing capabilities under our control in New York, warehouses in four strategic geographic locations and alliances with major freight companies, STAUBER meet our customer needs by being a complete solution provider.
Media Contact for Biova: Amanda Orloske, Sr. Director, Marketing & International Sales
Media Contact for Stauber USA: Monica Mitchell, VP National Sales